Contact
Information & Reservation
How to find us
Parking
---
on-site parking in front of the Kursalon as well as nearby parking garages can be used, additional charges apply
Public transport
---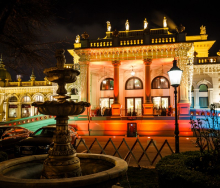 LINE U4
metro U4, station: Stadtpark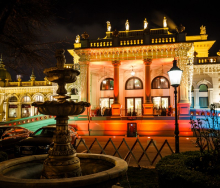 LINE U3
metro U3, station: Stubentor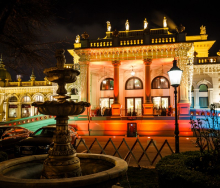 LINE 2
tramway 2, station: Weihburggasse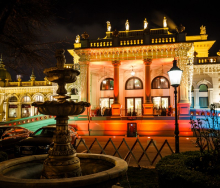 LINE 71 or D
tramway 71 or D, station: Schwarzenbergplatz
Good to know
Before the Concert
During the Concert
After the Concert
Before the Concert
We advise you to book your tickets in advance. However, you can purchase tickets on the day based on availability.
You can book your tickets on our website in the ticket section. If you have any issues booking the tickets, feel free to contact us.
Yes, the whole venue is barrier-free and there is an elevator at your disposal.
If you require disabled seating, please make a remark in your booking and we will ensure you a seat in your category that complies with your needs.
The seats are not numerated with our personnel guiding you to your seats in the booked category. If you would like the best available seats in your category, we advise you to arrive on time for the admission.
Admission for the concert at 06.00 pm begins at 05.30 pm
Admission for the concert at 08.30 pm begins at 08.00 pm
If you have booked a VIP ticket, you can collect your free CD and program at the box office together with your tickets.
If you didn't purchase a VIP tickets, you can still purchase a CD or a program at the box office.
We advise you to consider whether your child would enjoy the concert the same way you would. We do not prohibit children of any age to join the concert but from our experience we do not recommend attending the concert with children younger than 4.
No, no pets are allowed to the concert.
Our cloak room is mandatory for every guest and larger items need to be stored at the cloakroom. You are of course allowed to bring your necessities with you to the concert.
During the Concert
Our staff will be pleased to guide you to your seats.
You can buy a program booklet either at the box office or in the concert hall before the concert starts.
It is forbidden to take any pictures, videos or audios during the concert in a way which will disturb other guests or the musicians.
However, you can take pictures or videos freely before the concert starts, during intervals between compositions and towards the end of the concert. We will be excited to see your posts on our social media using the hashtags #kursalonwien and #soundofvienna.
Please note that food and drinks are not allowed in the concert hall. We do have a bar where you can enjoy refreshments during the intermission.
No, unfortunately there is no possibility to dance during the concert.
However, if you want to enjoy a true Viennese ball you can visit our Johann Strauss Ball (for more information see johannstraussball.com)
After the Concert
Yes, the underground lines and trams are operating daily until midnight.
There are several taxis waiting outside of Kursalon after the concert if you wish to take one.
If you think you have lost or left something at our venue feel free to contact us. Any lost and found objects are to be picked up at the box office during the office hours.
We are grateful for every constructive feedback and looking forward to your impressions! Please send your impression directly to sound@soundofvienna.at . Thank you!
Best rated experience by travelers
100% recommend it to everyone including people like us who are not classic music lovers. Fantastic mix, little taster of everything; fun; slow music; singing; dancing. Thoroughly enjoyed it, unforgettable. Creme over a short visit to Vienna.
Highlight of our trip. So great to see talented musicians, singers and ballet dancer perform in an intimate room in a famous concert hall. It was amazing, beautiful, funny and enchanting.
Came here 15 years ago and again last night. Still fabulous. This beautiful concert veneu where Johann Strauss performed many of his concerts has everything. A great restaurant, beautiful architecture and an amazing experience of classical music with ballet and operatic singing.
Excellent concert last night in the Kursalon. It surpassed all our expectations and it, together with the sumptious, delicious meal we had in the Das Johann Restaurant beforehand made it the highlight of our 3 day trip to Vienna. We would highly recommend it as a "must do" while visiting there. Seamus and Mary. Ireland.